Sells for $300? - "Make Offer"
Will you take $225?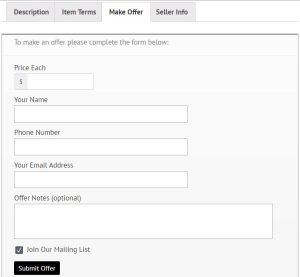 When you select the Make Offer button you can use the form to submit your price.  We might accept it as is, or we might counter-offer somewhere in between.
The negotiations can continue until we reach a mutually agreeable price.  Once that agreement is finalized you receive an email with a payment link for that accepted price.
Complete the payment and the item is yours.  You've just made a great deal even better!
Ready to negotiate?
It's free to sign up under the "Members" link at any location.
Or just browse items and look for the "Make Offer" button.